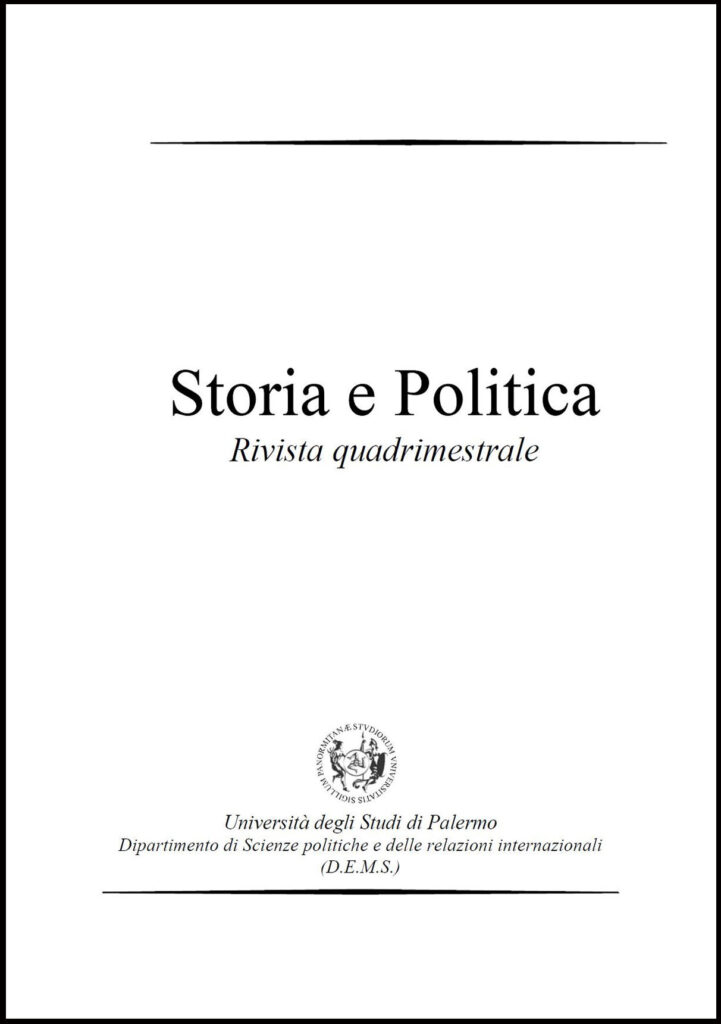 Ricerche/Articles 
Annamaria Loche
Università degli studi di Cagliari – ORCID: 0000-0002-3061-1334
IL DISCORSO UTOPICO E IL RUOLO DELLA POLITICA. MONTESQUIEU E IL RACCONTO SUI TROGLODITI
(THE UTOPIAN ISSUE AND THE ROLE OF POLITICS. MONTESQUIEU AND THE TROGLODYTES' TALE)
Keywords: Montesquieu, utopia, dystopia, politics, government
Some scholars explain the Lettres Persanes XII-XIII, which tell of the Troglodytes, as a description of a utopian society. Despite in these letters (as well as in other works of the French philosopher), we can find some spark of utopia and dystopia, such reading is not consistent. Indeed, we cannot say that Montesquieu had a clear and specific concern for this issue. On the contrary, letter XIV demonstrates that the author of the Esprit des Lois already in his early works considered the role of politics both as a key issue and as the only means for achieving a feasible and lasting coexistence among human beings.
Federica Falchi
Università degli Studi di Cagliari – ORCID: 0000-0002-1325-3061
IL NEW MORAL WORLD DI ROBERT OWEN: UN MODELLO PER AFFRONTARE LA PANDEMIA?
(ROBERT OWEN'S NEW MORAL WORLD: A MODEL TO ADDRESS THE PANDEMIC?)
Keywords: Owen, Utopian Socialism, sympathy, happiness, Scottish Enlightenment
Robert Owen, in the first two decades of the 19th century, developed a political project of economic, social, and political regeneration that he applied with considerable success in the microcosm of his factory/village in New Lanark. Despite of the criticisms directed at him by Marx and Engels, Owen's thought contains several reflections and proposals that have not only proved pragmatic and effective in the decades that followed, but also contain a propulsive and unifying force that could facilitate the reconstitution of those ties, if not community ties, at least social and economic ones, which the outbreak of the Covid 19 pandemic shattered.
Mauro Simonazzi
Università degli studi di Milano – ORCID: 0000-0002-7926-5487
LA FUNZIONE SOCIALE DELL'OPINIONE PUBBLICA E IL PROCESSO DI CIVILIZZAZIONE IN JOHN STUART MILL
(THE SOCIAL FUNCTION OF PUBLIC OPINION AND THE PROCESS OF CIVILIZATION IN JOHN STUART MILL)
Keywords: Mill, civilization, public opinion, freedom, civil society.
In the first part of my paper, I reconstruct the complex judgment on the process of civilization formulated by Mill starting from the essay Civilization. In particular, I intend to highlight the relationship be- tween freedom and constraint in the primitive and the civilized stage. Furthermore, I focus on Mill's considerations of the positive and negative effects of the process of civilization. In the second part, however, I intend to show that there are two different opinions on the social func- tion of public opinion that can be traced back to two different groups of works: on the one hand, in Civilization and On Liberty, Mill takes up Tocquevillian themes and arguments. Public opinion is therefore configured as a tyrannical force and as such as a danger to the autonomy and freedom of the individual; on the other hand, in works such as On Perfectibility, Utilitarianism and Considerations on Representative Government, Mill argues that public opinion has an educational function. In the third part, I show the close correlation that exists between the stage of civilization achieved by society and the social function that public opinion should have.
Adelina Bisignani
Università degli studi di Bari – ORCID: 0000-0001-9925-7882
ASPETTI DEL DIBATTITO SU UMANESIMO E RINASCIMENTO NEL SECONDO DOPOGUERRA
(ASPECT OF THE DEBATE ON HUMANISM AND THE RENAISSANCE AFTER WORLD WAR II)
Keywords: Humanism, Renaissance, Modernity, State, Nation.
The essay moves from the discussion on humanism between Sartre and Heidegger after the Second World War, to clarify the political rea- sons, and not only historical, of the debate about characters of modernity and its crisis that animates culture Europaen between the years '30 and the years '50 of the last century. Gramsci's reflections and of Schmitt – although very different – show this: the modern world is not be found in Humanisme-Renaissance but in the construction of national states. It is these political forms that enter into crisis and cause to second world war. And it is their crisis to mark the finis Europae.
Luiza Cristina Da Silva
Universidade Regional de Blumenau (FURB), Brasil -ORCID: 0000-0002-7351-6652
Leonardo Da Rocha De Souza
Universidade Regional de Blumenau (FURB), Brasil -ORCID: 0000-0003-1081-3155
SUPREMOCRACIA: OS LIMITES DE ATUAÇÃO DO SUPREMO TRIBUNAL FEDERAL
(SUPREMOCRACY: THE LIMITS OF PERFORMANCE OF THE SUPREME FEDERAL COURT)
Keywords: Judicial activism, Constitutional Jurisdiction, Judicialization of Politics, Fundamental rights, Legal certainty.
The Federal Supreme Court (which has the function of carrying out constitutional jurisdiction in Brazil) has been undergoing changes related to the application and interpretation of the Federal Constitution. This expansion of the role of the Federal Supreme Court is anchored in two basic points: first, the Judiciary is considered one of the safest means of guaranteeing legal certainty; and secondly, the Legislative Power has moved away from its role of representing the interests of the population and has become incapable of fulfilling obligations of justice and equality. Given this, this article, through a bibliographic and jurisprudential survey and a hermeneutic-dialectical epistemological approach, seeks to understand the Supremocracy, analyzing both the excess of action of the Federal Supreme Court, and its important role in guaranteeing fundamental rights.
Interventi/Remarks
Corrado Malandrino
Università del Piemonte Orientale – ORCID: 0000-0003-0296-3145
DEMOCRAZIA IN CRISI: ALLA RICERCA DI (RI)EQUILIBRIO TRA LIBERTÀ, UGUAGLIANZA E SICUREZZA
(DEMOCRACY IN CRISIS: IN SEARCH OF (RE) BALANCE BETWEEN FREEDOM, EQUALITY, AND SECURITY)
Keywords: Democracy, Crisis, Freedom, Equality, Security
For at least a century there has been a discussion, with increasing intensity, of the crisis of democracy in one with that of parliamentarism. A congenital criticality of this basic concept/ category of political thought, however, can be seen from its first rise in Greek antiquity, lasting over time up to our age, in which the crisis of the modern and even postmodern liberal-democratic model is more clearly debated. To report on these very farreaching issues, and to further deepen the discussions underway in recent years, an interesting and dense volume of studies is now proposed which refers to the presence and internal dosage in the various historical experiences, state and society, of the underlying values of democracy: freedom, equality, security. A prospect of rehabilitation of a democracy that puts such values as its foundation seems to be inherent in the federalist choice which over time has proved capable of intertwining them firmly on an institutional level, with the consequent consolidation of governments (the experience of the federal states demonstrates this), as in the field of social and economic development that is concretely sustainable and possible.
Fernando Ciaramitaro
Universidad Autónoma de la Ciudad de México – ORCID: 0000-0002-0299-7057
RIFLESSIONI SULLA STORIA ECONOMICA, LA POLITICA E LA FISCALITÀ DELL'IMPERO SPAGNOLO
(REFLECTIONS ON THE ECONOMIC HISTORY, POLICY, AND TAXA- TION OF THE SPANISH EMPIRE)
Keywords: Taxation, Economic History, Spanish Empire, Imperial Politics, Guillermina del Valle Pavón.
The fiscal policy of the Spanish empire and its extraordinary taxation are the two cornerstones of this bibliographic essay, which starts from the last book published by Guillermina del Valle Pavón. The aim is to reflect on the role of negotiation that arose when the Spanish crown was facing a serious crisis and needed additional funding.
Note e discussioni/ Notes and discussions
Alessandra Antonella Rita Maglie
Università degli Studi di Torino – ORCID: 0000-0001-6039-8522
IN FAVORE DELLA GIUSTIZIA SOCIALE. ALCUNE RIFLESSIONI A PARTIRE DA CONTRO LA TRIBÙ
(IN FAVOUR OF SOCIAL JUSTICE. SOME THOUGHTS FOLLOWING CONTRO LA TRIBÙ)
Keywords: equality, social justice, Friedrich Hayek, political liberal- ism, identity politics.
The ideas contained in this essay unfold from the reading of Contro la tribù. Hayek, la giustizia sociale e i sentieri di montagna, by Alberto Mingardi. The purpose of this essay is to collect some of the suggestions contained in Mingardi's volume to elaborate on and criticize them, in order to contribute to the debate around key issues such as the concept of distributive justice, the antinomy between freedom and equality, and the relations between some of the internal currents of political liberalism. The main theme underlying this essay can be summarized as the following question: is it possible for a world so wealthy, like the one that followed the Industrial Revolution, to be fairer, too?
Cronache e notizie/Chronicles and news
Alessandra Aru
Università degli Studi di Cagliari – ORCID: 0000-0003-3781-908X
Dimenticare Napoleone? Seminario dell'Università di Cagliari (9-10 dicembre 2021)
(FORGET NAPOLEON? Seminar organized by the University of Cagliari 9-10 December 2021)